The Wellstead Community Resource Centre is a not-for-profit, community managed organisation servicing the geographically isolated rural community of Wellstead. Formerly a Telecentre, Wellstead CRC has serviced the community for over 20 years. The Wellstead Community Resource Centre is one of 105 Community Resource Centres across Western Australia. The Wellstead CRC meets the needs and aspirations of the geographically isolated community. The core values underpinning initiatives are: inclusion, sustainability and collaboration. The organisation offers a range of workshop and training opportunities to the community each year. Wellstead CRC provides the community with: health promotion initiatives, job seeker assistance, business support, economic initiatives, networking and social events plus IT literacy support. The centre also provides a vital link for community members to access government information and services. In 2017, the Community of Wellstead initiated Whisper Coffee Shop: the CRC's social enterprise. 
Show your support and become a member of the Wellstead CRC!  Contact WCRC to receive a membership form today- it's free.
Wellstead CRC's Constitution can be found here: Wellstead CRC Constitution 19.2.2019
The WA CRC network is supported by the Department of Primary Industries and Regional Development through Royalties for Regions funds. 

Wellstead CRC Committee
The Wellstead CRC is governed by the following 2018-19 volunteer management committee:
Chairperson: Krystle Gorman
Vice Chairperson: Joanna Slattery
Secretary: Jessica Matthews
Treasurer: Dawn Chadwick
Committee Members: Nerida Sullivan, Chelsea Stanich, Carolyn Davy, Allan Gilkison and Colin Mundy.
If you're interested in becoming a committee member of Wellstead CRC, please contact us: wellstead@crc.net.au . Wellstead CRC's AGM is held in September each year.
Wellstead CRC History
The Wellstead Community Resource Centre was established in 1996 as an Associate Telecentre in a small, transportable building located on the grounds of Wellstead Primary School. To provide greater public access, the Telecentre was briefly relocated to an area within Wellstead General Store. In 2003, a modern, stabilised earth building collocated the Community Resource Centre, Community Library, Natural Resource Management office, Wellstead Historical & Heritage Committee and their displays. In 2019, the Community Resource Centre houses Wellstead Public Library, Wellstead Historical & Heritage Committee and Whisper Coffee Shop. Each week, a number of local groups also utilise the centre including: Wellstead Playgroup, Craft Group, Wellstead Book Club, Wellstead/Gnowellen Fire Brigades, Wellstead St John Ambulance and Wellstead CRC's volunteer management committee.
Wellstead Progress Association
Wellstead CRC operates in partnership with the Wellstead Progress Association. For more information, please see Wellstead Progress Association
Show your support and become a member of the Wellstead Progress Association! Email: wellsteadpa@gmail.com to receive a membership form. 
(2019 WPAI Constitution update pending with the WA Department of Mining, Industry and Regulation and Safety)
Noongar people have historically fished and hunted along the southern coastal region. It was not until the mid-19th century that the district was settled by Europeans at Cape Riche. Descendants of these settlers continue to farm at Cape Riche today.
Edward John Eyre passed through this district when he was traversing the country from South Australia to Albany in 1841 and a cairn that marks his route can be seen at the junction of Sandalwood and Mettler's Lake roads.
In from the coast, land was considered too poor to sustain agriculture. This changed when scientists found that with the application of trace elements, good pastures could be produced and the area was opened up in the late 1950's and early 1960's. Conditional purchase blocks were allocated to people from all around Australia who had applied to the W.A. Land Board in the hope of acquiring a block. 
Together with the earlier settlers, conditional purchase newcomers brought a feeling of community to the area. They established and built the original school, tennis courts, community hall and church: forming the foundations on which we continue today. The region supports agriculture, forestry, floriculture and other agricultural related industries. As the population of the area increased there was demand for the government to set aside land for a town site. The town site was gazetted in 1965 shortly after establishing a telephone exchange.
Today, conservation and agriculture work hand in hand for a sustainable future.
The name commemorates the Wellstead family who settled in the district around 1860 and held extensive lands between Cape Riche and Bremer Bay.
The Wellstead Historical & Heritage Society is a very active group preserving local and district history and displaying it at the Community Resource Centre. A number of their publications are available to purchase from Wellstead CRC/Whisper Coffee Shop
    Wellstead Primary School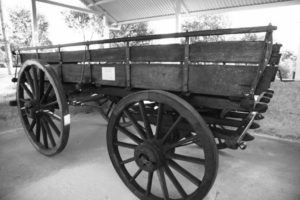 Sandalwood Wagon on Display at Wellstead CRC
The Wellstead area has a rich and diverse native flora, which adds splashes of colour to the roadside in changing shades throughout much of the year. Native fauna is plentiful and the colourful birdlife is particularly noticeable during harvest when spilled grain provides an easy meal along the roadsides.
Whales visit our coastline on their migration journey and can at times be seen comfortably from the shoreline at Cape Riche and Boat Harbour.
The coastal scenery provides a beautiful backdrop for walking, swimming, fishing and diving, and provides inspiration for artists and photographers. The Stirling Ranges to the north are an easy drive and are rich in a variety of flora and fauna. There are many well marked trails for those in search of a more strenuous activity.
A 12 km magnetite deposit has long been known to be present just west of the townsite, and Grange Resources Limited & SRT Australia have conducted drilling in the exploration area to map the extent of the deposit. Named Southdown Joint Venture Magnetite Project, it is yet to secure investors.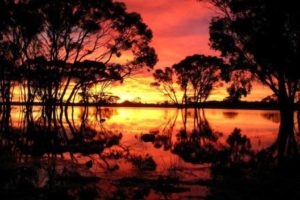 Wellstead
Cape Riche
Google Maps: Wellstead Location 
Situated in the Local Government boundaries of City of Albany, Wellstead is a small rural community 19km from the picturesque Cape Riche. The Stirling Ranges form a majestic backdrop to the agricultural and natural landscape. The community of Wellstead is home to around 157 people, with the major industry being agriculture, forestry & fishing (ABS Census 2011). The community also experiences seasonal influxes of workers during the busy agricultural periods of harvest and seeding. Wellstead CRC draws centre users/event attendees from neighbouring areas of: Gairdner River, Boxwood Hill, Bremer Bay, Green Range, Cape Riche, Monjebup, Gnowellen, Amelup, Manypeaks, South Stirlings, Kojaneerup and Borden.